TETSUO KAWABE STUDIO co.,ltd.
---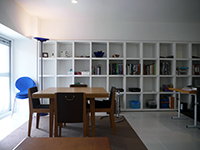 Address5-8-15-209, Kitashinagawa, Shinagawa-ku, Tokyo141-0001, Japan
Tel81-(0)3-5789-3640
Fax81-(0)3-5789-3641
Emailinfo@tetsuostudio.com
Urlhttp://www.tetsuostudio.com
In case of coming by the train ;
Get off at JR Yamanote Line, Osaki Station
Go to the south exit (direction to the Shinagawa station).
Turn left and go to the new east exit (Shin-higashiguchi) direction on a bridge.
And turn right at the end and enter the Osaki gate city.
Get on the escalator on your right hand side, to the first floor.
Then, turn left just before Starbacks and go while watching an Atrium
on your right hand side.
And go out from Osaki gate city.
You see the Meguro River and Morinaga Bridge in the front .
Across the river and a riverside white apartment is Kitashinagawa Homes,
You go right on riverside and then the entrance on your left.